RSI Pro Printer Ink Supplies, Service and Support!
Having trouble accessing RSIpro.com?  We can help.  We've got Ink, Service and Support for RSI InkJet Systesm.
Need RSI Bulk Ink System Support?  We've got you covered.
Case Printing Solutions provides ink, service, and repair for your RSI printer. Please call us or contact us for more information!
RSI Pro Service
Keep your system running at top productivity!  No need to re-invest.
We Repair unsupported RSI equipment- We fix RSI printers. We can keep your line going at peak productivity.
Cleaning
On-site and offsite troubleshooting
Complete Service
Technical Support
Replacement Parts and Systems
Call us about your RSI, RSI Pro system:  541-754-2273
" A couple years after purchasing several RSI printers, I contacted the manufacturer and found out all RSI systems were flagged as end-of-life and no longer supported by the company. My packaging line was down and I was panicking! I jumped online and thankfully found Case Printing Solutions. CPS offered to repair my printers and they extended their loaner printers to use in the meantime. CPS put together a transition plan to support my RSI systems ongoing. The solution utilized the mounting equipment and specialized conveyors that were already in place. CPS was able to do this through creative support, rental and loaner fees."  – Production Line Manager, Large Food Packaging Company
RSI Printer Parts and Service  – InkJet Systems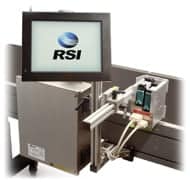 RSI MVP Printer, and RSI Hydra Printer Support
On-site and offsite troubleshooting
Complete RSI Industrial Inkjet Printing System Service
RSI Case Printer Technical Support
RSI Ink Jet Printer Replacement Parts and Systems
 RSI Replacement Parts and Repairs:
We have in-stock many commonly needed RSI printer parts, including the Controller board and Printhead Driver boards.
Controller board
Printhead driver board.
Replace or repair.
Call for more information 541-754-2273 (CASE)
Part numbers we support:  TIJ 0014739, TIJ 0013878, HYDRA, RSI Hydra, Markem-Image