HP Q7457A – Remanufactured Black Pigment Bulk Ink Supply 350 ml
Pigment Ink Designed to Print on a Variety of Porous Surfaces
Remanufactured HP Q7457A HP 4500 Black Pigment Bulk 350 ml ink cartridges are remanufactured to the highest quality. Case Printing Solutions' expert InkJet engineers created this 100% compatible remanufactured HP 4500 Bulk Ink supply solution to: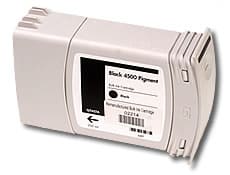 Save you money
Deliver uptime and keep your equipment running

Great decap time
Larger ink capacity
Proprietary additives especially for Carton coding quality

Ensure your bar codes are scannable, maintaining excellent print quality
Make your printheads/print cartridges last, with superior nozzle performance.
Save 50% off OEM prices with Remanufactured  R Q7457A Ink Supplies
Eco-Friendly and Easy to use
Case Printing Solutions new and remanufactured bulk ink supplies provide superior value, significant savings over OEM and other remanufactures, and offer an environmentally conscious alternative. In addition, our customers find our no-box, case carton only, bulk packing for quantities of 10 or more, reduces swap out time and waste disposal. The HP 4500 black pigment Bulk ink supplies are used in conjunction with HP 4500 Black Bulk Ink Q7456A Cartridge and Connector system.
*HP are registered trademarks of Hewlett Packard. Case Printing Solutions is not affiliated with Hewlett Packard in any way, nor does Case Printing Solutions endorse any product of Hewlett Packard.