HP Q7457A Cartridge's Enduring Success
HP Q7457A – 25 Years and Growing!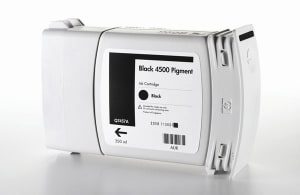 Hewlett Packard entered the industrial printing arena for mail addressing and package coding more than 25 years ago.  Over that period the HP 45A cartridge and Thermal Inkjet (TIJ) 2.5 technology, including the popular HP Q7457A,  has enjoyed continued success, moving from the office desktop to commercial and industrial coding.  After all, it makes sense to take all the benefits of TIJ office printers and transfer that value to more commercial & industrial environments.  The HP InkJet technology is robust enough to handle the higher output, and the customer still enjoys the high print resolution, low downtime, and ease of operation without sacrificing cost or quality.
Black Ink HP 45/ HP 4500 Drives the volume*
Looking back, the single most popular ink used by TIJ 2.5 customers for industrial applications has been the 4500 black ink.  Large volume mailers and packaging managers prefer the ink for its sharp, crisp print quality with minimal intervention, on primarily uncoated substrates.   The ink features excellent barcode readability, plus fade and water resistance on a variety of substrates.
To further expand on the success of 4500 black ink, HP leveraged its off-axis ink supply technology to create various bulk ink supplies including HP Q7457A Black Pigment Bulk Ink in a 350 ml tank.  Like its predecessor, HP Q7457A offers great print quality and reliable performance plus a regulated print flow. The HP Q7457A brings new toner formulation, cartridge architecture, and smart printing features to HP's precision printing system.  The products are easy to install and replace.
Consider the following 3 applications for HP Q7457A and the ever-popular HP 4500 black ink.
Case Barcoding – Use HP Q7457A to print readable barcodes on shipping cases to ensure compliance with large retailers like Walmart.  Competing print technologies are unable to match the 600-dpi print quality capable with HP TIJ 2.5.  This means unreadable codes and punitive fines for those manufacturers not utilizing TIJ.
Chipboard Box Marking – Use HP Q7457A to print batch, lot and expiration dates on standard chip board boxes used in food and consumer goods packaging.  The TIJ print head and bulk supply can easily code at 240 feet-per-minute and 300 dpi.  Or cut the resolution in half to double the print speed capabilities.
Case Product Identification – Use HP Q7457A to print large character alphanumeric text on white or brown cases to accurately identify the brand and contents within the case.  For very large ink volumes, go with two HP Q7457A supplies and the hardware station will automatically switch from one to the other (ie., hot swapping) when the first tank is empty.
Note:  HP Q7457A Black Pigment Bulk Ink 350 ml, works in conjunction with HP Q7456A Black Pigment Printhead.
When it comes to the creation of high-quality, accurate coding on boxes, cartons and cases look no further than Case Printing Solutions.  Call us for assistance to: (1) troubleshoot your inkjet printer, (2) implement a bulk ink system, (3) buy & save when purchasing original and remanufactured HP ink products, (4) rebuild your print system and thereby extend its useful life, and (5) upgrade to a new print system.  Case Printing Solutions helps you get the most from your HP TIJ system and maximize Return on Investment.  Contact us today: (541) 754-2273, or www.caseprintingsolutions.com
https://caseprintingsolutions.com/wp-content/uploads/2017/08/Q7457A-post.png
251
454
JustinCase
https://caseprintingsolutions.com/wp-content/uploads/2020/06/CPSLogoold.gif
JustinCase
2017-08-02 19:36:18
2020-10-26 18:35:45
HP Q7457A Cartridge's Enduring Success