Inkjet Printhead Care- Fix clogged nozzles, streaky barcodes
Cleaning the Inkjet Print Cartridges / Printhead Cleaning
Although Thermal Ink print cartridges require no routine maintenance, proper use and handling of them will help ensure optimum print quality and print cartridge life.
Store new print cartridges in their original clips when not in use.
In  a Carton Printing environment dust fibers occasionally build up and drag through the ink and streak it.  In this case, cleaning your ink cartridges can improve the quality of printing.
Eliminating Ink Streaks:
Materials you will need
Before you start, make sure you have the following materials available:
A tex wipe (non fiber cleaning cloth)
Distilled water
Cleaning the Inkjet print cartridges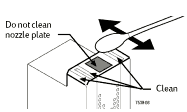 Grasp the top of the black ink cartridge.
Dip a clean Tex Wipe (Q-tip is not recommended, too many fibers) into distilled water and squeeze any excess water from the swab.
Clean the face and edges of the ink cartridge as shown. Do not wipe the nozzle plate.

Clean the Inkjet print cartridge

CAUTION: Be careful not to touch the ink nozzles on the bottom of the print cartridge or the copper contacts on the back of the print cartridge. Touching these parts of the Inkjet print cartridge can result in clogs, ink failure, or bad
https://caseprintingsolutions.com/wp-content/uploads/2016/02/versatileblack2-300.jpg
324
300
JustinCase
https://caseprintingsolutions.com/wp-content/uploads/2020/06/CPSLogoold.gif
JustinCase
2013-07-24 07:50:57
2022-10-22 21:53:12
Inkjet Printhead Care- Fix clogged nozzles, streaky barcodes