Milk Packaging Makeovers – Materials to Coding
Milk Packaging Makeover – From Materials to Lot and Date Coding
Consumers have been buying milk in cartons and plastic containers for more than sixty years. Now, as more people have become environmentally conscious, the dairy industry has decided the time is right to give the old-fashioned milk packaging a sustainable make-over.  The new forms of packaging make it a challenge to manage the milk packaging date coding.
Isn't milk packaging sustainable already?
We know what you're thinking. 'What's wrong with plastic containers and Tetra Pak?' Well, plastic milk bottles are usually made of high density polyethylene (HDPE), which does not biodegrade in landfills and loses some of its tensile strength when recycled. And Tetra Pak cartons, although reasonably su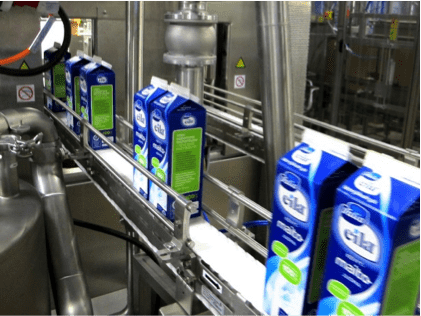 stainable, require a dedicated recycling facility located in Brazil, due to their plastic coated lamination and the aluminum elements they contain. It should be noted that both HDPE and Tetra Pak cartons are somewhat challenging materials to code with expire dates and batch numbers, at least until recently thanks to new ink development by various inkjet providers.
GreenBottle: milk in a bag in a box
Probably the hardest part of introducing a new type of milk packaging is getting the consumer to like the change. Which is what makes GreenBottle such a cunning design. It looks like a traditional plastic milk container, while it's actually a cardboard tray that's shaped like a bottle and contains a low density polypropylene bag. Producing GreenBottle requires one third less energy than conventional milk containers. GreenBottle also has a 48 percent smaller carbon footprint than plastic.
Jugit: milk in a bag in a jug
Similarly, Jugit offers milk in a pouch. Using pouch packaging for milk is not new, as it was already introduced in several countries a few years back but failed to impress. Apparently, consumers were put off by fears that the pouch would burst, and found it difficult to use. In the case of Jugit, however, the pouch is contained in a reusable and easy-to-pour polypropylene jug. Furthermore, Jugit produces 75 percent less waste than traditional milk packaging.
Regardless of the milk packaging selected, the most logical print technology to pair with dairy industry packaging and date coding is HP thermal inkjet (TIJ).  As noted by Case Printing Solutions – the leader in inkjet coding, troubleshooting, and cost effective supplies – TIJ is a clean and green solution with terrific print quality. Quality coding on Plastic, metal, and paperboard substrates used in milk packaging are all possible with thermal inkjet.
Visit www.caseprintingsolutions.com for more information about buying, operating, and repairing TIJ coding systems for milk packaging, case coding and more. (541) 754-2273
https://caseprintingsolutions.com/wp-content/uploads/2016/10/milkpackaging2.png
316
421
JustinCase
https://caseprintingsolutions.com/wp-content/uploads/2020/06/CPSLogoold.gif
JustinCase
2016-10-18 18:07:41
2020-08-26 08:01:01
Milk Packaging Makeovers – Materials to Coding