HP Solvent Inkjet Removes the Stink from Coding of Deodorant Tubes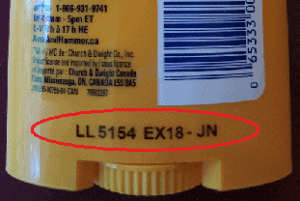 HP inkjet is now synonymous with industrial strength!  In 2014 HP engineered the very popular 45A inkjet cartridge to allow for jetting of solvent inkjet inks.  The enhanced cartridge is called HP 45si.
Better Quality, Even at a Distance:
There are several advantages with the HP 45si cartridge. The modified design includes different materials and printhead nozzle sizes to accommodate the solvent inks. The drop size of the solvent inks is larger and therefore can travel further distance to the substrate.  This means the 'throw distance' for solvent inks is typically up to 5 mm, whereas inks that jet from 45a cartridges have a 1-2 mm throw distance.
Choice of Solvent Inks for Plastic surfaces:
Solvent inks, including the HP 2580, General IQ990, and General IQ800 (plus various colors) are superior alternatives for most non porous, (plastic) applications.  These TIJ Solvent inks are ideal for hard plastic as used in deodorant tubes, which are generally high-density polyethylene (HDPE), low-density polyethylene (LDPE), or polypropylene (PP).  In addition, the HP solvent inks are effective for printing on glass, metal studs, plastic film and other non-porous surfaces.
"Using a solvent ink that's delivered in a compact, self-contained ink cartridge allows many cost savings for manufacturers."
No Smell, Low Maintenance: Better than Continuous
For those operations with experience running Continuous Inkjet (CIJ) on their packaging lines, the HP 45si products are a welcome upgrade.  CIJ is known for its noxious smell, leaking vessels, and expensive maintenance contracts as compared to HP Inkjet.  Training of labor to use the HP technology is also quick and straightforward.
We'll Prove it.  Send us your Material, We'll print a sample.
Send us your samples so we can recommend which HP solvent ink is best suited for your needs. Case Printing Solutions offers a variety of effective and affordable solvent inks in the 45si solvent ink cartridge for all your product identification and package coding needs.
https://caseprintingsolutions.com/wp-content/uploads/2019/02/solvent-ink-inkjet-hdpe.png
208
311
JustinCase
https://caseprintingsolutions.com/wp-content/uploads/2020/06/CPSLogoold.gif
JustinCase
2019-02-13 23:27:07
2022-10-11 15:16:08
HP Solvent Inkjet Removes the Stink from Coding of Deodorant Tubes